Introduction: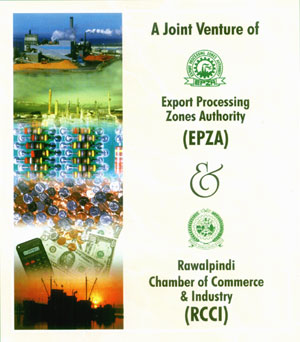 The Export Processing Zone Authority (EPZA) was established in 1980 by the Government of Pakistan with the mandate to plan, develop, manage and operate the Export Processing Zone; and to invite/help foreign investors to find new business horizons in Pakistan. EPZA is an autonomous body operating under the Ministry of Industries, Government of Pakistan.
Rawalpindi Chamber of Commerce and Industry has already established an Industrial Estate at Rawat. After success of this unique project in private sector, the Government of Pakistan has now granted permission to establish an Export Processing Zone adjacent to the existing RCCI Industrial Estate. Rawalpindi Export Processing Zone (EPZA) will be established over an area of about 200 Acres. Entrepreneurs will avail very liberal and favourable fiscal incentives and facilities/support services of international standards.
EXCELLENT INVESTMENT ENVIRONMENT IN PAKISTAN:
Pakistan has a considerable potential for foreign investors both in terms of endowment features and the government policy of deregulation, privatization and liberalization of economy.
Government of Pakistan attaches great importance to the role of foreign investment in accelerating the pace of industrial development in Pakistan. The government has, therefore, decided to spare no efforts in assisting the investors to operate in a climate that assures efficient production and growth.
The reforms package announced by the government has been a major leap forward and has a positive impact on the investment climate in the country. Pakistan, a land of many splendors and opportunities, has a population of more than 135 million industrious, enterprising and hospitable population. Flanked by Iran and land locked Afghanistan in the West, Central Asian Republics and China in the North and Gulf States just across the Arabian Sea in the South, Pakistan is strategically located for easy and convenient access to the potential future international market.
SALIENT FEATURES OF REPZ:
Important geographical location in the Plateau of Potohar adjoining Federal Capital.
Availability of Support Services as already available in RCCI Industrial Estate and Rawalpindi region.
The site is located about 20 kms from Rawalpindi with a traveling time of 25 and 35 minutes from Rawalpindi and Islamabad respectively.
REPZ is located at a distance kms from Islamabad International Airport, 25 kms on link road to Pakistan Motorway and 4 kms from National Highway.
National Railway Line is running adjacent to the Zone with a loading/unloading facility.
Chaklala dry port is located at a distance of 13 kms from REPZ.
Availability of skilled as well as non skilled labour at low cost.
Availability of residential and commercial facilities in close proximity.
High class hotels and restaurants available in twin cities of Rawalpindi-Islamabad where Chinese and continental food is served at low cost.
Plots:
Total Plots

Main
411
311
125
22
6
1
876
Extension
208
84
46
11
-
-
349
Total
619
395
171
33
6
1
1225
No Custom duty or any other tax on import of machinery and raw material.
Duty free import of three vehicles for use of industry in the Zone.
Complete exemption from Federal, Provincial and Local taxes.
Complete exemption from Corporate taxes.
Full repatriation of capital, dividends and profits.
Apart from international/local market (of about 135 million people) available subject to national import policy.
All documentation regarding import and export etc. issued by the Zone.
All support services like water, power, natural gas, telecommunication etc. available.
Production oriented labour laws.
Availability of highly skilled and unskilled labour in abundance.
Offshore banking and insurance of facilities.
Sub-contracting allowed within the Zone as well as in tariff area of Pakistan.
One window service (simplified procedure).
No duty/tax on import of construction material and equipment.
Repatriation of investment of NRP and foreigners.
No tax on income aboard. Losses carries forward for tax purposes.
No limitation on size of industry.
Five years tax exemption on salaries of expatriates.
Recommended Industrial Projects:
Electrical and Electronics
Light Chemicals
Stuffed toys
Garments
Food Processing
Wood Products
Scientific Measuring Instruments
Computer Hardware/Software
Engineering
Precision Mechanics
Specialized Fabric/Yarn Processing
Leather Products
Plastic Products
Onyx Marble Products
Cosmetics
Metal Products